Grocery stores. Shut up and take my money. Grocery shopping is one of my favorite past-times. No seriously, I LOVE grocery shopping. I can't tell you how many times I have had time to kill, so I go to the grocery store to check out new-to-me products and brainstorm recipe ideas. I love taking my time walking around the store, looking at everything and reading all of the labels. I know, total party animal over here. Let's just say I know how to have a good time.
Like most other basics (and bloggers), Trader Joe's and Whole Foods are two of my favorite places to go. I know between these two, I can find the staple foods I like to eat and can always find fun new foods to try. Thankfully, a Trader Joe's opened up in the area where my parents live which is 99.9% of the reason why I was able to move home. Joking/not joking. Because TJ's is so close, I usually go there on a weekly basis to stock up on my regular groceries. Below are my favorite healthy staples from Trader Joe's.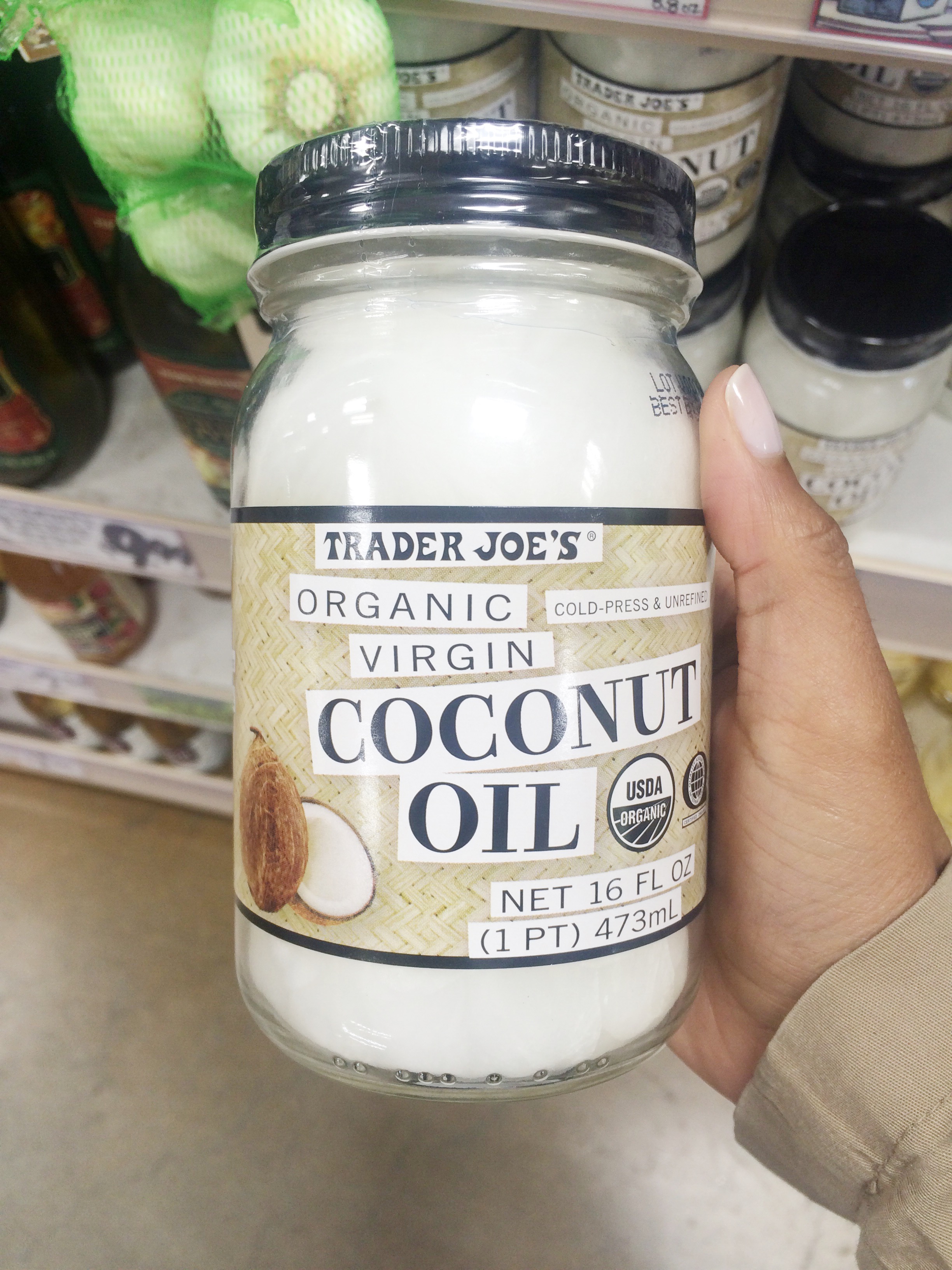 Coconut Oil – I mean, let's just be honest with ourselves. Coconut oil is the magic balm for all basic girls everywhere (insert hand-raise emoji). I like keeping a jar in the kitchen for baking, and a jar in the bathroom for beauty. TJ's coconut oil is organic and unrefined, and you just can't beat the price.
Orange Muscat Champagne Vinegar – I LOVE this stuff. I love using this vinegar as a base for salad dressings (it is amazing on this watermelon salad), and to massage kale with. It's not too acidic, and is lightly sweet which offsets the bitterness of greens like kale. If you don't like eating raw greens, throw some of this on it and I promise you will gobble them up.
Rolled Oats – A basic girl breakfast I can't get enough of – overnight oats. Plus you get extra credit basic points if you eat it out of a mason jar. I love using these rolled oats in my overnight oats because they keep their texture well and don't get too mushy. I also like grinding these into oat flour for baking!
Hemp and Chia Seeds – Hemp and Chia Seeds are two of my favorite superfoods that can break the bank if you get carried away. For me, they are a must for smoothies and oats, so I go through them pretty quickly. These both have a really good price point, so I like stocking up on them.
Quinoa – Gimme all the quinoa. Give it to me savory in a broth bowl, give it to me sweet for breakfast. I just never get sick of this versatile grain, and make a batch during meal prep to eat every week.

Nut Butter – Want to know a fun fact? I hated all nuts and nut butter until I was about 21. What was wrong with me? Good thing I have eaten a lifetime's worth of nut butter in the past five years to make up for lost time. Two of my favorite picks from Trader Joe's are their raw almond butter (great price point) and the crunchy salted peanut butter with flax and chia.
Almond Meal – Another great baking staple. Almond meal is awesome for making grain-free and paleo-friendly treats.
Coconut Sugar – I don't typically consume a ton of sugar in my daily diet. However, if I do use sugar for baking, nine times out of 10 I use coconut sugar.
Pre-portioned Nuts and Trail Mix – Ummm…moment of honesty friends. Portion control is not my strong suit. If I have an open container of nuts or trail mix, I will go to town like it's nobody's business. I love these portioned nuts and trail mix pouches because it helps me not kill an entire bag of almonds in a day. Not that I've ever done that….
Hummus – Let's just all get on board with the fact that hummus is basically a food group. Cool, thanks. Aside from homemade, the classic hummus from TJ's is my favorite!
Frozen Berries – It's no secret that I'm a major smoothie person. The Very Cherry Berry Blend is one of my favorites to blend up. I love the addition of frozen cherries!
Turkey Burgers – If you eat meat, these are great to have on hand. They are really tasty and cook up quickly if you need a fast protein source for dinner. I also love crumbling up the turkey burgers while cooking them, and using them for ground turkey in other recipes. It's a great way to only use what you need if you are just cooking for yourself and an entire pound of ground turkey would be a waste.
Riced Cauliflower – Shoutout to all my lazy peeps who like riced cauliflower but don't want to lug out the food processor. I keep a few bags of this in my freezer at all times to make easy side dishes, and it also works well for cauliflower pizza crust. I even use it to make a yummy cilantro lime cauliflower rice.
Organic Frozen Brown Rice – If cauliflower rice isn't your thing, the frozen brown rice is also great. I don't have a rice cooker, and also am too impatient to wait for rice to cook on the stove. I love having these in the freezer so I can easily warm up perfect brown rice in minutes.
Roasted Plantain Chips – These are more of a treat, mainly because the lack of self-control I mentioned about nuts and trail mix applies here too. These chips are seriously addicting, and are amazing with black bean dip and guac.
Tea Tree Oil Face Wash – Now let's talk about some beauty products right quick (my favorite subject). I personally love using oil to remove my makeup, and like to follow it up with this cleanser if I feel like my skin needs a little extra love. This is actually the Desert Essence Tea Tree Oil Cleanser that TJ's sells under their own label for a lower price. The ingredient list is great, and the tea tree oil helps keep breakouts at bay. I love this stuff.
Moisturizing Cream Shave – I know the really cool thing to do is use coconut oil for shaving, and while I am all for using coconut oil for literally every other purpose in life, I just can't get with that. The cream shave has been a staple for me for years. It leaves my skin feeling moisturized and smells great!
There you have it! Those are some of my favorite staples to have on hand from Trader Joe's. Stay tuned, because I plan on posting a Whole Foods version soon. What are some of your favorite grocery staples? Where do you like to shop?